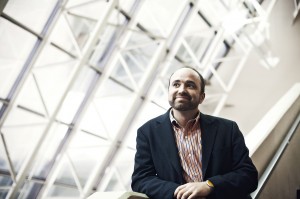 One of the world's leading experts on content marketing, Joe Pulizzi, joins us on December 6th  to talk about his new book,"Epic Content Marketing", and to explain how to draw prospects and customers in by creating information and content they actually want to engage with.
This exclusive event is co-sponsored by our friends at Content Strategy PDX and Babcock & Jenkins.
Joe will tackle these and many other important questions:
What is the business case for content marketing?
What is epic content marketing?
How do you manage the content creation process?
How do you use social media for content marketing?
How do you measure the effectiveness of your content marketing?
Register at: https://lunchwithjoe.eventbrite.com
Here are the details:
Epic Content Marketing:  Lunch With Joe Pulizzi 
How to tell a different story, break through the clutter, and win more customers by marketing less
When:  December 6th, 2013
Doors open 11:45, box sandwich or salad lunches served (from Elephant's Deli)
Presentation starts 12:15
Q & A session afterwards, until 1:15
Where: Mercy Corps Aceh Community Room
45 SW Ankeny St
Portland, OR 97204
Cost for ticket:      $45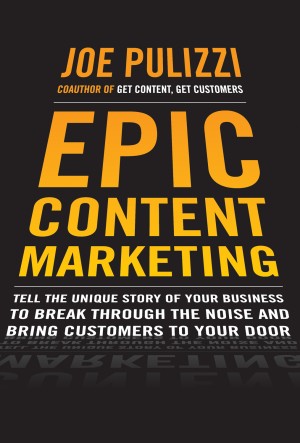 Also included with admission ticket is an Elephant's Deli salad or sandwich lunch (and you get to choose), AND a copy of Joe's latest book, "Epic Content Marketing"
Don't miss this epic event on December 6th at Mercy Corps – seating is limited so buy your ticket now!
Joe Pulizzi is the original content marketing evangelist, and started using the term "content marketing" back in 2001. He's the founder of the Content Marketing Institute (CMI), the leading content marketing educational resource for enterprise brands, recognized as the 468th fastest growing private company by Inc. magazine in 2013.
CMI produces the largest in-person content marketing event in the world, Content Marketing World, held every September in Cleveland, Ohio, which has been attended by half the Fortune 50.
He has spoken at more than 200 locations and 10 countries around the world advancing the practice of content marketing.
He's also co-written two other books: "Get Content Get Customers" as well as "Managing Content Marketing." Find him online at JoePulizzi.com or on Twitter @JoePulizzi.
About Content Strategy PDX
Content Strategy PDX (@CS_PDX) was established to facilitate the conversation about content strategy and related topics among content professionals in the Portland area. Content strategy is the strategic approach to identifying, planning, creating, publishing, distributing, promoting, measuring, optimizing and governing the content an organization uses to attract and engage its target audience(s). Those interested in content strategy are often in the fields of marketing, advertising, communications, web design/development, interaction/information design, copywriting, social media and search engine marketing, and others where content plays a critical role in an organization's ability to engage its target audience(s). To learn more about content strategy, contribute to the discussion and meet other content professionals, find us at http://www.meetup.com/Content-Strategy-PDX.
About Social Media Club PDX
The Social Media Club of Portland (@socialmediapdx) is a collection of local Oregonians that work, play and live in the evolving social media landscape. We seek to bring together those that share our passion and excitement for all things social media, with the goal of communicating, sharing and learning from our collective experiences. Started in 2009, a primary purpose is to provide networking opportunities that inform and engage people of all backgrounds and skillsets, helping to grow socially proficient professionals and leaders.  Please visit us at http://socialmediaclubpdx.com/ to learn about upcoming events and how you can get involved.
About Babcock & Jenkins
At Babcock & Jenkins, epic content is the cornerstone for successful B2B marketing, fueling conversations that create awareness, nurture relationships and close sales.